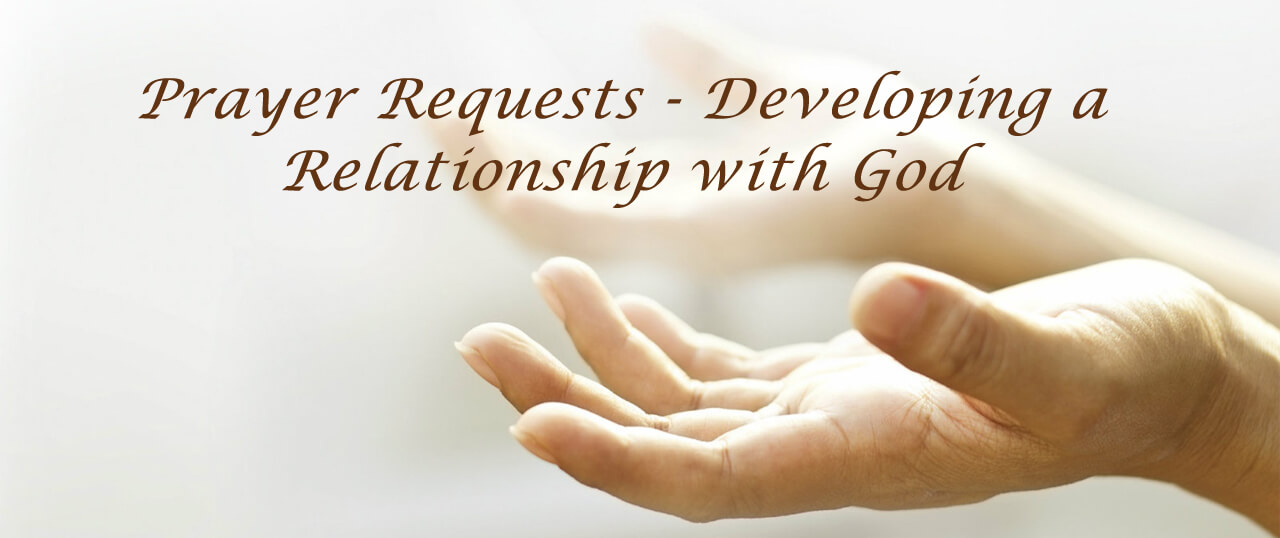 Prayer requests aren't just about asking God for things you need or desire. It's about establishing a relationship with Him built on faith and trust in Him. God knows the desires of your heart long before you even think to ask.
God wants to hear from you no matter what you're going through. We'd love to pray with and for you and help you strengthen your relationship with God. Fill out the prayer request form below and let our prayer warriors pray for you and your needs.
The purpose of the prayer wall is to allow users to pray as a community and connect around their prayer needs. We are committed to maintaining an open, welcoming, and fruitful prayer space for all.
Prayer Warriors – Please pray for the following requests:
PRAYER REQUESTS
My husband, Frank is having some surgery this coming Friday, July 7. There's a lot of preparation for it—he has to give himself shots at home three days prior and then adjust his medications one day prior and he has to have a meeting about it tomorrow. And he will be in the hospital two days after the procedure. Please pray for the skill and excellence of his surgeon and everyone in the operating room and for his complete recovery. I thank you so very much.

Sunny

I injured my lower back at work on Sunday Its improving with treatment,but is still painful at times I am traveling by plane on Thursday to see my son in PA and we are then driving down to NC to my house to get it ready for a visit from my wife in Korea A lot going on and a bad time to have an injury ,but I am asking the Lord to heal me and grant me grace thru all the travel and the activities. Thank you for your prayers

Having severe lower back pain since yesterday asking for healing by all means within the Lords will

I have another health problem that occurred at work so I'm asking for healing for a problem with my ankle

I have a medical problem that arose this week I am asking the Lord to resolve it so I can return to work quickly

Father, we give thanks that you make all things new. Thank you for all that you've allowed into our lives this past year, the good along with the hard things, which have reminded us how much we need you and rely on your presence filling us every single day. We pray for your Holy Spirit to lead us each step of this New Year, 2023.

We ask that you will guide our decisions and turn our hearts to deeply desire you above all else. We ask that you will open doors needing to be opened and close the ones needing to be shut tight. We ask that you would help us release our grip on the things to which you've said 'no,' 'not yet,' or 'wait.' We ask for help to pursue you first, above every dream and desire you've put within our hearts.

Lord, we give thanks for your guidance and influence of the Holy Spirit on our ministry program, our men, Pastors and staff at Desert Springs Church.

In Jesus Name,

Amen

Please pray for Al Hurt who will undergo foot surgery on Friday, Dec 16th.

Please pray for Wes and Joyce Davis as he is bringing Joyce home from the hospital where she has been for a week with Pneumonia. It has been a slow recovery.

We are asking prayers for Ed Burns who will be undergoing surgery on December 19th in La Jolla for gall bladder bile duct cancer. We pray for the skill of the surgical team, a successful removal of the cancer and quick recovery.

Pray for Al Taylor whose hand was bitten by a pit bull over the weekend. It was originally treated at a Urgent Care facility but infection set in and he is now hospitalized at Eisenhower. Pray for remediation of swelling and the healing of infection. ****UPDATE**** - Al is out of the hospital is out of the hospital but the infection persists and spread to the bone. He will be undergoing a biopsy on Dec 19th to determine the course of treatment.
PRAISE REPORTS
George November 23, 2022

I am having hip replacement surgery on October 12. I am asking That God give me a successful surgery and a quick recovery that everything that needs to happen in relation to this administratively and financially will be timely. I thank you for your prayers.
****PRAISE REPORT**** - George is healing nicely and, in fact, was back at the church working for the Lord harder than ever... all praise to Jehovah Rapha!